Oscar
I don't see many movies in the theatre so I'm usually a year behind at Oscar time. But here's what I do know about this year's competition. Maggie Gylelehyaleonl (sic, I think) should have been nominated for her performance in Sherrybaby. I didn't like the ending to the Departed, Scorsese went a little heavy with the execution-style killings, but overall it was good. I went into my viewing of Little Miss Sunshine with too high of expectations and was somewhat disappointed. Although they didn't distinguish themselves in any performances this past year, I hope the show's producers have the good sense to include a special tribute, including a 15-minute video montage, to the two finest actresses of all time: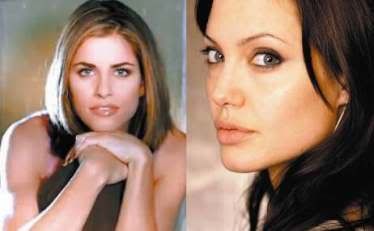 Banter
I won't speculate on what events may have lead to the demise of Brian and Kellie in the morning, although it's clear that Dave wields a powerful and vengeful sword when crossed. There's a pretty impressive display of support for the delightful couple over in the comments section of the SJ-R's report of their ouster. I'm puzzled, however, by those who said how funny the two morning hosts were. Based on what I had heard while passing through the dial, Brian and Kellie were funny in the same way that Oprah is funny, which is not very. Affable and pleasant for sure. Good-humoured, but not really humorous. I think that we humans have the ability to detect when somebody is trying to be funny and for some of us, that's good enough to let go with a chuckle.

F-Troop
I shed no tears for the chief, mostly because I'm not an Illini fan. If it really is offensive to those who might legitimately be offended, then I suppose it's for the best. Just don't claim, as the NCAA does, that the way the chief depicted Indian culture was "hostile and abusive." You can be insensitive, even prejudice, and not really mean to be. But to rise to the level of hostile and abusive, intent to inflict harm is required. And I don't think anyone could argue that the school was purposely trying to demean Indians.

Commercial
Bona fide bloggers spat upon their bogus brethren who use their blogs as a marketing tool, especially if they're trying to entice readers to join them in being swindled in a Ponzi scheme. It's true that I will occasionally pitch my freelance writing services here, but I don't claim that hiring me will promote weight loss, provide financial independence, or enhance "intimacy" in the bedroom. Although, I'm not certain that won't be the case either. So if you or someone you know is in need of any type of business or editorial copy, click on the little ad to the right and soon you'll be living the life you've always dreamed of.

Envy
My favorite line of the week comes from Stephen Metcalf, writing for Slate.com. If you like the Police, but find Sting to be a bit of a wanker and think his solo work is perfect background music for people who do pottery while mourning the loss of their boyfriend, Patrick Swayze, then you should appreciate this:


Copeland, who founded the band and whose intricately manic polyrhythms define
its sound, prevented Sting from impressing too much of his character on its
music. Unyoked from Copeland, Sting was free to become what he is today:
one-third spirit in the material world, two-thirds scented candle.


I really wish I'd come up that line. I bet Brian and Kellie's fans wouldn't find it funny.



*This is the second post this week. Damn impressive.