For those of you who read my feature in yesterday's SJ-R, which was totally upstaged by Dave Bakke's goose noir column, I thought I'd share some additional information on crossword puzzles. I did enough research that I could have filled the entire Parade supplement with interesting-at-least-to-me crossword minutiae, but then we would have missed out on Walter Scott's riveting answers to important questions from real-life readers who aren't celebrity publicists just shilling to get their clients' name in front of the much-sought-after Parade demographic.

Anyway.

I've you're a fan on the NY Times puzzle, there's a guy, goes by the name of Rex Parker, who blogs about his daily crossword experience. I email-interviewed him, but he's not from around these parts and so he didn't fit with the local angle of the story.

On his blog, Rex Parker Does the NYT Crossword Puzzle, he writes about the clues he liked, the ones he didn't like, and the one's that gave him the most trouble. Rex said his commentary is in the spirit of the great "Mystery Science Theater 3000", although it's somewhat more serious. He also includes pictures that correspond to some of the clues.

It's endlessly entertaining if you're into that sort of thing. It's especially interesting to a middling cruciverbalist such as myself who can delve into the mind of an expert in hopes of divining some deeper understanding of the way of the crossword.

I also interviewed, through SIU School of Medicine's Public Affairs Office, Dr. Robert Struble, Professor of Neurology, Psychiatry and Pathology.

He said that a study found that people who were highly intellectually active had a decreased risk for dementia and that crossword puzzles were good for keeping the mind mentally fit, which means that I should be able to blog about Red Hat conspiracies well into my nineties.

I got to correspond several times with Will Shortz, who is probably only the biggest crossword celebrity in the world, thank you very much. As a point of comparison, my talking to him would be like a string theory enthusiast getting to meet Yoichiro Nambu or a garlic fanatic sharing a kitchen with Emeril Lagasse. See what I mean; this was big time.

Shortz, or Will as I came to address him, is a really nice guy and from what I understand he's living quite comfortably having parlayed his love of puzzles into a small fortune.

Of course all of this - the article, the column and now this blog post - has forced me to face a harsh reality. I may be a nerd. I mean, we're talking about crossword puzzles here. Yes they're intellectually stimulating and a lot of really interesting and accomplished individuals share my passion for them, but it isn't exactly a glamorous or daring pursuit. You won't see the winner of the American Crossword Puzzle Tournament with Amanda Peet or Angelina Jolie on his arm.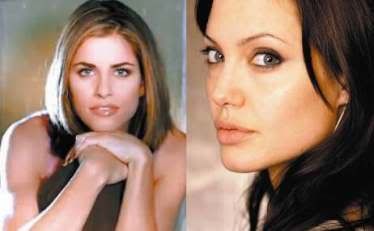 Actually, I don't think I'm a nerd. I just haven't posted this picture since October and was looking for a proper segue. Okay, maybe I am.